Multiple sclerosis and spring crash, badly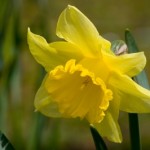 If the contents of this blog sound way too familiar, you are not going crazy. While it is not an actual repeat, it does bear many of the common complaints listed in a better titled blog from last April, Chop Their Happy Little Heads Off.
I spoke too damn soon this year. For a whole two seconds, I actually started to get excited about spring, my least favorite time of year. I noticed the beautiful flowers sprouting everywhere and appreciated their symbol of colorful new life developing through the seasons. I even studied them in my quest for the perfect flower to represent multiple sclerosis, Forget-me-nots.
Unlike previous years, I did not mock people who were excited when the warmer weather arrived. When it seemed like we officially had to bid farewell to snow, I smiled as I put my shovel and boots away.
I proudly thought of the savings that would be made clear in my utility bill as I turned off the heat. I even dared to go to bed without socks on.
I bought bug spray, started wearing sunscreen (note- the experts want you to do that all year,) and fantasized about long strolls on the beach.
As people around me began to speak of allergies and started sneezing and sniffling, I felt smug as I remained unaffected. The allergen that caused one of my friends to break out in a rash so badly that the hospital wanted to commit and study her, must be from a different type of contaminant.
I was weathering May superbly. I tentatively opened windows and was thrilled that the light wind was blowing in crisp, fresh air. I constantly dusted the window sills for pollen and there wasn't any! Spring truly would be lovely this year.
As the talk around me got worse and I told myself allergy sufferers were just whiners who liked to whine, I soaked up the season. Until yesterday when sitting by the cool window, I turned to my computer and found it awash in ugly yellow green dust.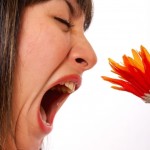 I had only just inspected to make sure my house was pollutant free. But it seemed that within minutes, pollen, the disgusting by-product of spring had attacked and I was running for cover. I closed windows and started cleaning; which was a major bummer as I had just completed some super intense cleaning only eight weeks before.
Suddenly my MS symptoms of late had a new cause- the headaches, the sore throat and the extreme fatigue on top of already extreme fatigue might now be a combination of MS and the attack of the demon dust.
I ran to my medicine chest for my free sample of allergy medication, only to discover that my free sample of allergy medication was actually a free sample of heartburn medication.
I grabbed my keys and made for my car; a trip to the pharmacy was in order. But outside, I was blinded by the evil demon dust and in the place where my car had been parked there was now a huge filthy yellow green monster.
If God creates the season and the flowers, then pollen must be from an alternate source. Satan himself, covering God's spring beauty with misery. There is no way this particular dust comes from fairies. It must be demonic.
I pictured demons flying around my yard and covering my house, my poor car and me with this awful stuff and flew back into the house for shelter. The house that was now boiling hot with all the windows closed. Back to multiple sclerosis, heat wreaks even more havoc on an MS body.
I had only recently turned off the thermostat; was I now to start jacking up the utility bill with the air conditioning? But no, I found my little portable ac buried under a bunch of stuff and likely also covered with pollen.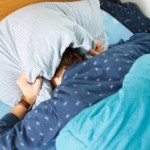 It was all too much. So I did what I do best. I fell into bed and covered my head with a pillow. Then I fell asleep.
Spring should only be around for another five or six weeks, right? I can totally sleep until then, easy.
Important Note
Dear Friends,
While this blog may seem to suggest that I am overwhelmed by the little annoyances of life, please note that this is just me trying to fight back against these annoyances with a little humor. In no way do I take these minor troubles too seriously.
I feel this is important to note in light of the tragic weather that took place in Oklahoma earlier this week, causing death, catastrophic injuries, and destruction throughout a large part of the state. The people of Oklahoma are facing real struggles right now and likely have little to laugh about. Please join me in sending them prayers, well wishes, and whenever possible, donations to help them in the aftermath of this extreme misfortune.
Image courtesy of [Graeme Weatherston] / FreeDigitalPhotos.net
Image courtesy of [Stuart Miles] / FreeDigitalPhotos.net
Image courtesy of [AKARAKINGDOMS] / FreeDigitalPhotos.net
Image courtesy of [graur codrin] / FreeDigitalPhotos.net