A multiple sclerosis guest blog by Jennifer Digmann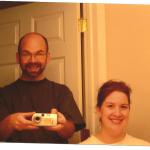 Ahhh friends, autumn is here and I couldn't be more thrilled!   The weather has been just perfect and I am so happy that I have been outside a bit, picking up some natural vitamin D.
I have been enjoying this time of year so much that I didn't leave much time this week to write a new blog.  I was just going to offer up an oldie when new friends, Dan and Jennifer Digmann came to the rescue.
I met Dan and Jennifer on Twitter recently, a social media site that I only moderately know how to use.  Luckily, Dan knows how to use it and he tweeted me about my blog and then I tweeted back and tweet by little tweet, I got to know him, his wife Jennifer and their awesome work.
Dan and Jennifer have been married for 9 years and both are living with multiple sclerosis.
And while that seems like a huge cosmic cruelty to have both a husband and wife struck with this sucky illness, it was actually MS that brought them together.  They met at an MS event titled "Finding Your Buried Treasure."
How cool is that?  I bet neither expected their buried treasure to be a spouse.  I am officially making more of an effort to get to more of these events!
I have been to a few and have met many wonderful people but I have yet to find a husband at one- perhaps I am not looking hard enough?
Anyway, Dan and Jennifer totally rock!   They regularly write about their experiences on their blog on their own website       www.danandJenniferdigmann.com and on the website Healthline where they also blog.
Thank you so much Jennifer and Dan- so glad to have made your acquaintance.
For your reading pleasure, dear readers, please check out Jennifer's thoughts on an upcoming birthday.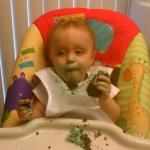 Getting older: A good thing?
by Jennifer Digmann
I turn the big 4-0 in less than forty days and there has been a doom-filled cloud following me for, oh let's say, the last 320 days or so.
There is a daily countdown to the big day, November 6, on my refrigerator. This age has been hanging over my head because up until now, getting older always has been followed by a great life-altering event.
Think about it: you start driving when you turn 16; vote at 18; and drink (legally) at 21.
Even turning 30 was fantastic because that was the age when Dan and I got married, and it seemed my life really began.
But I am a little more than a month away from turning 40, and I can't stop thinking that it's just downhill from here. Forty is just plain O-L-D, and so am I.
I posted this #TBT picture of Dan and me on Facebook a few weeks ago, and my aging was noticed. Our friend Michelle commented, "Look at those fresh, young faces!"
Ouch!
Normally, I probably just would have smiled and forgot about it, but being close to turning 40, the comment stuck with me. I'm not ready to get old.
Recently as Dan and I drove to our Multiple Sclerosis (http://www.healthline.com/health-slideshow/multiple-sclerosis) support group meeting, we talked about that subject. I was lamenting about getting older when he asked about my 30s.
"Ah, such good times," I waxed nostalgically. "We were married, moved into our house, I finished graduate school."
"Yes, Jennifer, but what else?"
Whether intentional or not, I began seeing what Dan was getting at and began looking at my 30s through less rose-colored glasses.
"Well," I thought, "39 hasn't been all that great, especially with Trigeminal Neuralgia and my Gamma-Knife surgery not working as well as I hoped. And I haven't driven or walked in this decade."
With all the good stuff, this decade also kind of sucked.
And maybe that's what Dan was getting at: in life you always have to take the good with the bad.
Perhaps it was just his sage wisdom that comes with age. After all, he just turned 42!
This conversation got me thinking about the promise of the new decade and the opportunities it has in store for me. But these opportunities won't happen on their own. I need to take control of what I can. (link to http://www.healthline.com/video/managing-multiple-sclerosis).
I'm realizing I'm finishing my 30s to position myself for greatness in these once-feared 40s. I have started aggressive physical therapy that is focused on building my core strength and increasing my range of motion. I also took the necessary steps to begin Rituxin, a more-advanced treatment to control my MS.
All of this is very empowering and fills me with hope.
Maybe turning 40 will be better than I thought.
 Happy pre-Birthday Jennifer!!!