Another multiple sclerosis dilemma
Don't be gross.  It was a wedding; of course I was going to shower.
And no, it wasn't MY wedding.  Seems in order for me to have a wedding I would have to find a groom somewhere.  And that just sounds really, really exhausting.
But yes, for my friend's wedding I would shower.
And put on makeup.
And attempt to do something with my hair.
The question became, when would I do all that?
For most people, this would be a question quickly answered, maybe not even questioned at all.
But for people whose brains don't always work the way we expect them to, issues like this can be overwhelming.
Serena and Joel, aka Bootsie (if you have read my book, MS Madness! you may remember Serena's boyfriend Bootsie,) were tying the nautical, marital knot.  (Had to throw nautical in as the groom is a fisherman.)
The wedding was being held at a very busy hall and thus, could only be decorated on the morning of the 2PM wedding.  My friend Lynn and I agreed to help the maid of honor and her friend get the hall ready.
We were due at the hall at 9:30 and the church was over a 30 minute drive away from where Lynn, the hall and I all lived.
(We East Coast people measure traveling distance by time, not miles.)
Since decorating a hall can be sweaty and messy, my plan was to help decorate for two hours and then go home to shower and attempt to make myself pretty.
The day before the wedding the bride asked if Lynn or I could load up our car with decorating stuff and guest favors.  Being an eager beaver, I agreed before Lynn had a chance to.
It was after the bride and groom had loaded my car that I remembered that my trunk leaks when it rains.  There was no rain predicted that night but with my luck there would be an unexpected deluge and wedding items would get soaked and float away.
I called Lynn and we loaded up her car which was a good thing as we had time to talk before the big day.  And as we talked, she reminded me of the huge festival taking place between where we lived and the church which would likely add at least an hour to our travel time due to heavy traffic.
"So I'm thinking I'll just get ready before we decorate and then go home to quickly change and freshen up," she said.  "That way there will be plenty of time to get to the church."
That was not my plan.  I was going to decorate and then shower and then put on makeup and then style my hair.
But now I was worried about the time too.  If Lynn, who as a working mom has for the last several years gotten up early and quickly gotten herself and her daughters out the door every school morning before 7:30 didn't think she had enough time to get ready after decorating, then how could I possibly have enough time?
MS makes me move much slower than I used to.  And since makeup is not a daily thing in my life, I need a lot of time put it on, with time to wash off the makeup mistakes I make in the process.    Maybe I should get ready before decorating?  But then it might be hard to get myself together again.  My makeup could wind up all melty and gross looking and my hair would likely be useless.
This became a big question.
I analyzed my options over and over.
I asked Lynn what to do. Maybe I should do what she was going to do?  She's pretty smart and always looks nice so she must know what she's talking about.
I asked my mom what to do.
I called other friends to ask them what to do.
I tried to look up what to do on the internet.  I couldn't find anything.
All of this was silly of course.   It wasn't my wedding so really, how much did it matter what I looked like?
It's just that the brain fog that comes with multiple sclerosis can make even simple decisions hard to decide.
And combine that with a big event like a wedding and then throw in a troublesome event like a huge congested festival and it can be very hard to figure out.
So after tossing and turning I decided I would just get ready twice.  I would get ready before decorating and then if I couldn't fix what fell apart then I would just get ready again.
And so, in the morning, I showered, put on cosmetics, and sprayed hairspray, lots of hairspray.
Which was actually a huge issue because as we waited for someone to unlock the doors to the hall, I was followed by a huge bee who really, really liked my hairspray.  My hair wasn't even sprayed into a beehive but it didn't matter, that bee was in love with my hair.
I survived.  And so did the bee.  I couldn't kill him as I have heard bees are our friends and we need to protect them.  Plus, I am too wimpy to kill a bee.
We helped decorate and then Lynn and I each went home to get dressed.
And to re-do makeup.
And to redo hair.
And to add more and more hairspray.
And to worry about the ozone layer due to all the hairspray.
And somehow, I made it to the church on time.
When MS makes decisions hard to decide I sometimes find myself chilling out about the little things.
Less stress is good. In the end, I tend to get a little bit of an "aw, who cares? Life's too short," attitude.
Unfortunately, I only wind up thinking that after hours and hours of pondering.  One of these days I may just get the order right.
In the meantime, I just need to be glad for the big things.
Like, hey, my friend got married which is way, way more important than whether my eye liner was smudged or if I had lipstick on my teeth.
Especially since the one picture I took with the bride just happened to be under the handicapped sign.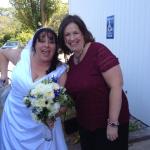 (So you're not confused, the bride is the one in white.  I am the one unwittingly posing under the sign! Perhaps the sign says it all?)
                               Congratulations to Joel and Serena!