Multiple Sclerosis investigated by a six year old
Lucy is my cousin and she is six.  Technically, she is my great, great cousin.  And, as she is a great, great kid, that would be great except that two greats simply means that I am aging, greatly.
(MS friends-if you were able to follow that great logic then today is an excellent day to redo your neurological-psych evaluation.)
Every summer Lucy, her mom, her big sister and her little brother come to visit me.  Is it because they think I am great?  Maybe a little but mostly I think it is because I live near a great beach.
We always have a blast during this visit but I think out of all of us, Lucy looks forward to it the most.
When her mom read aloud from Facebook last year that I was going to have to move, Lucy panicked about where I would move to and if there would still be enough room for them to visit.  She was thrilled to know that my new place had plenty of room.
As the summer gets closer, she starts talking about me and the visit more.
She is very smart and when my book came out she had two important questions-is the monster on the cover supposed to be MS and is the girl carrying the monster on a string supposed to be me?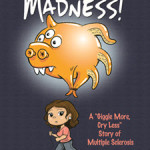 Yes, and yes my dear Lucy.   This knowledge caused her to happily proclaim to her teacher on the last day of school that she was going to the Cape to visit her cousin Yvonne who wrote a book about a monster.
I was so excited when my cousins arrived and we all promptly exchanged big hugs.  Lucy's little brother is a runner and he immediately took off while his mom was unloading the car.  I tried to chase him but quickly gave up.  Luckily, Lucy's older sister is an Olympic speed runner- she has to be to help her mom catch her brother.
Lucy noticed this and informed me that, "Yvonne, you have to be really, really fast to catch my brother."
I replied, "But Lucy, I'm old."
She made me feel better when she responded "and you have MS.  Maybe that makes you so slow."
Later Miss Lucy wanted to know, "Yvonne do you take medicine for your MS?  Sometimes I have to take medicine for my allergies."
I didn't want to give her nightmares so I kept my shots hidden.  After all, they still really terrify me!
Lucy's real name is Lucia which actually means light.  That is fitting as it completely floors me how bright Lucy is.
She isn't afraid to exert her intelligence either.  We were playing a writing game and she informed me that, "Yvonne, you don't know how to write."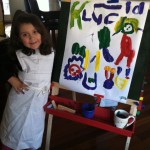 Either my e's looked like g's or Lucy has been talking to my editor…
When I asked her yet again what grade she was going into in the fall she told me first grade and then said, "Yvonne you keep asking me that and asking me that.  You asked me today and you asked me yesterday and you asked me the other day. How come you keep asking me?  Is it because of MS that you can't remember?"
I said yes, that was why I kept asking her the same question over and over and maybe it was true but it was also because I couldn't believe she was only going into first grade.  I don't think I knew anything when I was going into first grade.   Did I even know my name?
On our visit we found a man dressed as a soldier, pretending to be a statue.  He made money as he stands so still that people think he really is a statue and then they are so surprised when he's not, they give him a dollar or two.  Lucy and I decided that this would be an easy way to make extra cash and so we practiced.
Turns out, Lucy was very good at this and could probably pay off college by the third grade if her parents want to let her start her career path early.  She would pick a pose and then we would both have to keep it for as long as possible.
She always outlasted me.  But she is a considerate child, stating after one pose, "Let's not do this one.  It's not fair as I take ballet but it is too hard for you as you have MS."
And Lucy was my ally.  When her brother refused to eat the dinner I prepared she told him that he should try it as it was delicious.  "You know, even if something looks disgusting it can still taste good." Her brother wasn't convinced and opted for waffles instead but I was pleased.
When after dinner her brother spilled his glass of water, Lucy asked me if I ever yelled.  I had to think about that one and realized that no, I don't yell.  I sure curse a lot but never over spilled water.  Spilled water is easy.
Spilled milk though?  I wouldn't cry about it but I just might utter a profanity or two.
Of course, I didn't tell Lucy that…
I miss having kids around.   Their questions are so spot on.
How refreshing would it be if the rest of the world looked at those of us with chronic illness and just asked what they wanted to know, without judgment or prejudice or ulterior motives?
How awesome would it be if people just asked their questions without worrying if their questions were insulting or dumb?
Even better, what if those asking the questions listened to the answers, really listened, like Lucy did?
Yes, I appreciated Lucy's questions and concern.  And I enjoyed putting her concerns to rest.
Like the great concern she expressed when they were getting ready to leave, "Yvonne, I am worried about leaving you alone because you have MS and you don't have a husband."
Where did that one come from?  Was it because we were talking about all of them going home to see their daddy who stayed behind to pet sit and do work around the house?
I assured her that I would miss her too and all of her help.  I reminded her that she met my mom who lived close by and that I have a lot of friends.
This seemed to make her feel better.
But me, I couldn't help thinking maybe a husband would be helpful….
And, man, that Lucy is some smart.   What grade is she going into????