A multiple sclerosis shopping escapade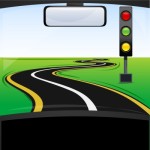 We were going on a road trip, my mom, our friend Annmarie and I.  The goal was curtains.  I didn't need curtains.  I probably needed to wash the curtains I had, but I had curtains.  The ones in my kitchen and living room were left over from the previous tenant in my apartment and she was practically eighty.   The curtains are probably even older.  It's okay; they dim the sun enough so you don't really see all the dust.
But my mom needed curtains and had a specific type in mind-63 inches, rod pocket, valance attached, lined, no embroidery, no plain colors, no ruffles, one rod only, energy saving, light diffusing and vibrant without being too flashy.  How hard could that be?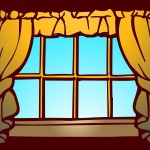 Our dear friend Annmarie is not only a shopping expert but actually likes curtains.  She's one of those super sweet, super talented people who also have patience and believes that curtains are no big deal.  She Googled curtains and found some places for us to check out.
We headed away from our little town over a bridge and into a city where we would visit curtain experts.  No ordinary department stores on this venture.
The first place we checked out was a brand new building with no identifying signs of any kind.  It looked very modern but suspiciously so.   We couldn't figure out what kind of place it was, yet it's where Annmarie's trusty GPS told us to go.   I went to check if they were open, although open for what I didn't know.  They were.
On one side of the building was a fancy store where they sold bedding and bath items but no curtains.   The other side was a factory.  We were in a towel factory.  I didn't even know towels came from a factory.  I just thought they sort of existed on their own.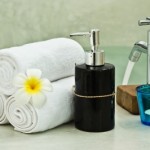 Before I reported this to my companions, I needed the restroom, of course, which turned out to be one of the cleanest and fanciest I have ever been in.  I kind of didn't want to leave.  It was so classy that they didn't have a hand dryer or a paper towel dispenser; you dried your hands with real towels.  I was so impressed I tried to get my mom to come in and use the restroom but she just had curtains on her mind and didn't need any distractions.
Next, we ventured into the heart of the city.  We could tell it was the heart of the city due to the ton of construction details we had to detour through.  The GPS did not like this.  It kept stating "recalculating, recalculating," and if you ask me, it had an attitude about it.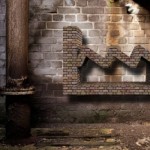 But it did direct us to a very large, very old building that we circled several times before we saw the sign for the curtain store. Once inside there were no more signs; just a dark building and a creepy staircase.  At the top of the stairs we saw curtains so up we went.
There was a door marked showroom but it was locked.  There was another door marked office and so I opened it.  The door slammed behind me with a loud bang and I jumped.  Suddenly there appeared a young girl who offered to open the show room for us.  It seems we went from a brand new towel factory to an ancient curtain factory.  The city was an old mill city so this wasn't surprising.  My mom and Annmarie picked out some curtains that might work but Annmarie was not the type of woman to settle for "might work."
We set off again.  But already, my MS bladder was calling and not to be outdone, so was my stomach. All of our stomachs decided to join in the rumbling too.  We stopped at a lovely Portuguese restaurant and had a delicious lunch.  Fortified, we found store number three which looked quite pleasant, with several styles of curtains to choose from.  But I chose instead to go visit the bridal store across the street.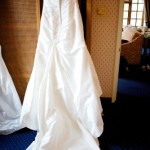 No, I'm not finally getting married, at least not that I'm aware of.  I was just sick of looking at curtains.  Until I entered the store and realized that looking at bridesmaid dresses wasn't much different from looking at curtains.  I left and met my party- store #3 didn't carry what my mom was looking for.
Next the GPS sent us to what looked like a deserted industrial park.  The tall buildings were dreary with busted windows and were spooky to say the least.  After circling another several times we found a teeny, tiny sign with the word "curtain" in it.  I couldn't help it- I had to ask.
"Mom, doesn't Sears carry curtains?"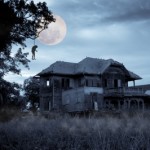 Annmarie and I ventured in first.  This building was dustier and spookier than the previous old building we visited.  There seemed to be no signs of businesses or of life of any kind.  There was a dramatic, ancient looking stairway with the date of 1890 carved into the steps. It looked exhausting and with little hope of finding what we were looking for, I was ready to split.  Annmarie said "I'm just going to see what's upstairs."  I heard her say "oh, no, this isn't right.  What's a beautiful sofa doing amid all this junk in this creepy place?"
I was convinced we might be in a Stephen King movie.  I worried that if we were in a Stephen King movie and something horrible happened to Annmarie I would look like a jerk if I didn't get chopped up with her.  Despite my aching legs, I ventured up.  And she was right- there was a lovely sofa outside a huge room filled with junk and a bizarre ghostly old man on a cell phone who told Annmarie that he didn't know anything about curtains.
You know how in all those slasher films the obnoxious kids keep walking deeper into the scary woods even though they know there is a serial killer in the scary woods?  That was us.  Intrigued, and stupid, we climbed a second set of stairs.  At the top we found more long abandoned filthy rooms but still, we kept walking deeper into the woods.  I mean building.
Amid all the emptiness we eventually came upon a potter's studio.  Suddenly, a woman wearing a paint specked apron materialized behind us.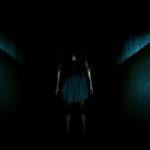 "Oh, you must be the potter," Annmarie said cheerfully.
"I'm not the potter," the woman responded. "I'm the girl who needs to pee."
As we backed away Annmarie cautiously asked about curtains.  The woman/zombie/ghost said "next floor."  So exhausted, with MS legs of lead but now hell bent on destruction and at least pretending to back up Annmarie, I followed her up the third flight of sinister looking stairs.
At the top- we finally saw them.  Curtains, beautiful curtains displayed artfully in a large, bright room.  Curtains perfect for my mom if we ever got out of this building and got her in.  Annmarie called out for help and another pale ghostly figure appeared.  Annmarie asked about prices and the woman mysteriously stated "we don't sell curtains."
At that, it was all we could do to run down three flights to the safety of the car.  And of course Annmarie was faster.  In my horror movie scenario I would be the slow kid who trips, falls and gets cut up first.  Luckily though, I made it out.
We guessed that when Annmarie "Googled "curtains" she had stumbled upon the curtain factory showrooms of old- most of which were abandoned now as everyone buys things online.  And items bought online don't come from a factory. They come from Amazon.  But the ghostly building we were now happily leaving, we had no idea what that one was.
Annmarie's search had one last suggestion.  We followed the GPS voice as it lead us to an actual department store with a whole section on curtains, drapes, panels, valances, tie backs, rods, sashes and even towels.  My mom picked out curtains that "would work" as oppose to the "might work" ones and we left, mission finally accomplished.
On the ride home, my mom remarked that the next time we went shopping she needed to find a present for her three year old grandson and she knew just what to get him.  Annmarie said she would type the word "toys" into Goggle for the perfect present.
I just sighed….
Kidding aside, it was actually a fun adventure, even with a bad MS bladder and achy MS legs. Still, I'm insisting on Toys R Us for my nephew's birthday!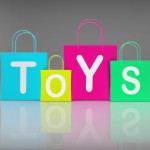 Image courtesy of digitalart at FreeDigitalPhotos.net
Image courtesy of Salvatore Vuono at FreeDigitalPhotos.net
Image courtesy of  winnond at FreeDigitalPhotos.net
Image courtesy of  njaj at FreeDigitalPhotos.net
Image courtesy of Sharron Goodyear at FreeDigitalPhotos.net
Image courtesy of  Witthaya Phonsawat at FreeDigitalPhotos.net
Image courtesy of  hyena reality at FreeDigitalPhotos.net
Image courtesy of  Keerati at FreeDigitalPhotos.net
Image courtesy of  Stuart Miles at FreeDigitalPhotos.net