Music for multiple sclerosis to move to
So this spring ushered in a blizzard and some company. With gale force winds and several inches of snow predicted for 3/26, my mom came to stay. For the record, these previous two statements are not complaints; neither about the weather or about my mom visiting. All is well.
And even though the lateness in the season of this storm is odd, I, the woman who loves winter, am still good with it. By stating this fact I reserve the right to start complaining when the heat and humidity strike. And believe me, I will be complaining.
The reason I bring this up is because I learned something new during my mom's visit and I really want to ponder it with all of you to see if it's MS related. As I walked across the living room my mom said, "Why don't you pick your feet up more? Do you know you are shuffling? You're going to wear a path across the carpet."
My mom's statement lead to three main questions-
1. So what? This is a rental. It's not my carpet. Wait, will my security deposit cover a path in the carpet?
2. I do? I never realized that before. Is this an MS thing?
3. I feel like listening to the Stones version of Harlem Shuffle– where's my Dirty Work CD?
I couldn't sort out the answer to number 1 without checking with my landlord's which might make them super obsessive about examining the carpet when I do move out, whenever that will be.
So, I moved on to number's 2 and 3. I started to notice and my mom was right- I do shuffle.
Since the beautiful spring weather was actually 28 degrees, I was wearing heavy cotton socks and my super warm, super comfy slippers. And I was shuffling across my apartment. When did I start doing that?
I proceeded to walk normally and I was able to, but not without consciously trying to! Do I shuffle when I'm out in public? Is this shuffling simple laziness? Does my shuffling have anything to do with wearing slippers?
Suddenly I pictured an old man shuffling around his house in his worn slippers. Actually, I noticed, my slippers kind of look like an old man's. Was this more rapidly advanced aging courtesy of multiple sclerosis?
My sister Laurie who also has MS suffers from foot drop but this seemed different. This seemed more like too tired to bother to walk like a normal person.
Worrying about what this shuffling means to my age, the status of my MS, and my pocketbook (as in- will I have to actually replace this carpet?) started to overwhelm me. When that happens, the way I cope is by turning to one of my favorite things, the Rolling Stones.
And this link was a direct link as opposed to other indirect links my brain makes courtesy of multiple sclerosis. I went searching for the Dirty Works CD and played Harlem Shuffle, performed like only the Stones can perform it. Yes, 9 other people recorded it but of course the Stones did it best.
"Weird Al" Yankovic even did a version-weird.
As I listened I began to realize that this is another song the Stones sing about multiple sclerosis (see prior blog-Like an MS Rolling Stone.) I mean, see how MS perfect the lyrics are-
 "You move it to the left, yeah, and you go for yourself
You move it to the right, yeah, if it takes all night
Now take it kinda slow
With a whole lot of soul
Don't move it too fast…"
The song even works if two people in the same household both have MS–
"Don't fall down on me now."
Pondering upsetting thoughts by using the Rolling Stones as metaphors is another way that I deal with MS. There's using God to help deal. There's using my God given sense of humor to help deal. And then there's using the Rolling Stones.
Technically Harlem Shuffle was a song written in the 60's about a popular dance. That doesn't mean the Stones weren't thinking about multiple sclerosis when they recorded it.
So while I am shuffling along I automatically feel better humming Harlem Shuffle.
As I was humming and dancing away my hands and fingers began to shake. The shaking got me thinking. Harlem Shake is a whole different thing.
And not at all comforting as the Stones don't cover it!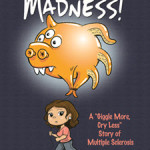 Only one weekend left before we say goodbye to National MS Awareness Month! That means, you only have one weekend left to purchase MS Madness! A "Giggle More, Cry Less" Story of Multiple Sclerosis through my publisher where you will get a discounted rate and 50% of the proceeds will go directly to the Race to Erase MS campaign!
Check it out here!