Hi friends!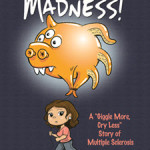 So it's finally official-
 MS Madness!  A "Giggle More, Cry Less" Story of Multiple Sclerosis is available in the print version!
(E-book readers, your version will be out very soon!)
 There are many ways you can get your copy of my new book.  It is available on both Amazon.com and BarnesandNoble.com
 It is also available through my publisher, SDP Publishing.
 MS Madness! retails for $14.99 but all of the above websites are offering it for a reduced price for a short period of time.
 Or you can request MS Madness! from your local bookstore or ask your local library to order it for you.
 Friends in the Cape Cod area, you can also pick up your autographed copy at one of my local readings!  Please check out the appearances tab on this website.
Thank you for your patience- I hope my book brings you lots and lots of giggles!
 Yvonne