Multiple Sclerosis and breakfast collide
I grew up as a child of the late seventies/early eighties.  What that means is that my Saturday mornings were spent in front of the TV, with a bowl of the best sugary cereal possible, watching classic cartoons.
And by classic, I mean good cartoons; Scooby Doo, Schoolhouse Rock, Fat Albert, the Jetson's and Bugs Bunny.
My favorite was The Flintstones but they were on in syndication.  Yabba Dabba Doo five days a week!
I would spend these joyful mornings getting amped on processed sugar until my mom would start vacuuming, thus making the TV inaudible. The threat of having to help clean forced me outside.
Because of this, I understand what "Silly Rabbit, Trix are for kids" means.
Trust me; I've actually been "CooCoo for Cocoa Puffs."
I understand the difference between "they're great" and "they're GGGREAT!"
I know that it's not possible to say the words, "magically delicious!"  They must be sung.
My favorite breakfast was Froot Loops promoted by the amazing Toucan Sam. Ahh, what could be better?
I'm an adult now and I've learned a thing or two.
Good cartoons are now actually movies and they aren't even accurate. I met Aladdin at Disney once and he was a total tool!!  Disney lied when they made him humble, sweet and brave in the movie.
2.Adults aren't supposed to like good cereal. We're supposed to appreciate the "good for you" stuff instead.
Multiple sclerosis has made my adulthood confusing and frugal.  For example, I'm not sure if milk is considered good for you anymore.  And if it is, which kind- whole, low fat, almond, goat, soy- I can't keep track.
And since life with MS is expensive and I'm on a tight budget, I can't afford the good 'good for you cereal."  My favorite healthy cereal costs twice as much as the others and doesn't even have fruit in it!
How healthy is that??
I've tried the cheaper healthy cereals but they taste like cardboard.  So let's be honest, I can buy them and tell myself that I will eat them but the reality is that I will come up with some excuse why I shouldn't-like that I'm bummed out that there are no good cartoons on so I need to comfort myself with sugar, etc.  At which point the healthy cereal will sit in a cabinet getting stale and will turn into stale processed cardboard and need to be thrown away.
How frugal is that?
Luckily, Cheerios seemed like a good compromise.  They're affordable and made with whole grains and thus somewhat healthy. I'm still confused about the milk issue but hey, you need to take things one step at a time.
As I explored my breakfast options, I discovered that Cheerios come in different flavors now.  And, what do you know, they have a fruit version!   The box even looked like the beloved Froot Loops box of my childhood.
I understood that since it was Cheerios, they couldn't be as good as the real Froot Loops but maybe they were close and at least they had fruit in them-yea!
I brought some home and they were delicious!  They tasted just like the favorite cereal I remembered.  Oh joy to adulthood.
But then I began to think about this.  How could this be?  How could Cheerios steal Froot Loops and not get sued?
How could Cheerios make a healthy version of my cereal and yet still taste great?
As I munched away, the question refused to leave my addled brain. As an adult, we have the internet now and so I thought to solve the issue by comparing the ingredients.  And I was shocked!
Brace yourself friends-it turns out the Fruity Cheerios are not that much different in ingredients and nutrients than Froot Loops!  And the real devastating shocker NEITHER is made with fruit!!!
Fruity Cheerios has a slightly better nutrition report than its predecessor and includes something called pear puree which makes no sense as I don't think there are even pear loops in the box!
How was I supposed to process this? How could Cheerios and those heart healthy commercials deceive me this way?
I felt betrayed.
I felt that everything I knew about life was a total lie.
I felt totally amped on sugar.
It occurred to me that I should go run around my neighborhood and tease the boys next door.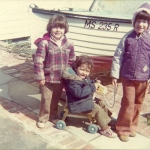 Plus, the real frustrating part was that I had two coupons for $1 off three boxes of Fruity (I feel corrupt just typing in the word fruity after my discovery,) Cheerios and thus I had six boxes I needed to consume before I went on to the plain, not so bad for you, regular Cheerios.
The whole thing seemed awfully loopy to me….
I suppose the next disappointing thing someone will tell me to ruin my childhood was that the Flintstones weren't real either.
See how paranoid this cereal nutrition issue is making me?  Of course the Flintstones were real- they were even historical!
Yes friends, this getting healthy thing is hard.  This getting older thing is hard. This getting poorer thing is hard.
What's a confused, money conscious girl to do?
I couldn't waste the boxes and so I did the only thing I could think of.
I pulled up old episodes of Superfriends on YouTube and ate my breakfast.
I felt comforted by the fact that at least I can get some nutrients from my new gummy vitamins.
And before you argue about vitamins that taste like candy being nutritious, I can prove that they are.  They say ADULT right on the label!
PS  If you can't find any good cartoons on TV but want some giggles to go with your breakfast, pick up a copy of MS Madness!  A "Giggle More, Cry Less" Story of Multiple Sclerosis!