The MS plagues of July
The calendar was pretty full from early June to mid-July. Both with fun things and not so fun things. Stressful things and relaxing things. Things that I added to the calendar and things that were added to my calendar for me.
In the MS balance beam of energy, the time was not allotted as well as it should have been. But we MS'ers try to roll with the punches.
I was surviving and resting as much as possible. And then July rolled in and decided to throw some extra punches of its own, just for fun.
The first bummer was that my landlord announced he was selling the small house/large cottage I have been happily living in for almost six years. This is the worst time of year to be looking for a place to live in my area as the tourists gobble up what living quarters they can, at the most ridiculous prices imaginable.
Simultaneously with this announcement, came a heat wave of extreme portions with the worst humidity we have seen in a long time.
My little rental has pre-fab storm windows that make a window air conditioner nearly impossible to put in. I survive with a little portable unit that needs to be emptied constantly, usually at a rate of every two hours. This year, the humidity has been so bad, that the draining ramped up to every hour or more.
Needless to say, I was a miserable mess. Unable to think, and barely able to move. And when I did move, my balance and coordination were completely shot and I became klutzier than I ever have been. My body is covered in bruises from walking into things, mostly into my portable ac, every time I had to drain it.
At some point my head cleared enough to remember that the Multiple Sclerosis Association of America had sent me a free cooling vest and maybe I should try it. When it arrived, I had luckily thought to put the ice packs in the freezer and so they were ready to go. I pulled them out, dropped them as they were slippery and I was clumsy, but managed to stuff them into the vest.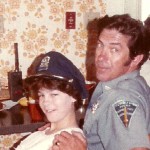 Daddy was a lawman. I know what you are thinking, where did that come from? Her MS brain has really gone off the charts. I don't know where that line came from either, especially since Southern Belle I am not. But it popped into my head as I tried on the vest.
My father was a police officer but I was more likely to tell people that by saying "my dad's a cop," rather than "daddy was a lawman." The fact of my dad's life's in law enforcement is the only explanation I can offer of why I picked the dark blue color for my vest.
I put it on and immediately looked like I was wearing a bullet proof vest. Either that or I looked the opposite of fashion protection in a suicide bomber look. Regardless, it didn't seem safe to leave my house with that thing on- don't want to freak out the neighbors just before I move away. I could wind up on a watch list of some crazy kind. But I must say, struggling through the misery of the heat and humidity, the vest did help when trying to exist in my sauna of a home.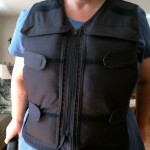 One of the days on the calendar consisted of a long drive in an air-conditioned car and so I was happy. I came home refreshed and expected the muggy air of my house. What I didn't expect was to be swarmed.
Opening my front door I was confronted with a ton of house flies. And when I say a ton, I mean a ton, not just an annoying one or two. It looked like something out of the Exorcist and was very upsetting. I immediately left and drove to the hardware store for help.
I bought some disgusting but guaranteed to work fly strips. With the sweat and tears dripping off my face, I tried to hang them and managed only to cover myself and my home in the sticky mess; the sticky, very hard to clean mess.
They caught one fly. One poor dumb fly who was then a message to the others "stay away from this stuff-it's a killer." I had to resort to the old fashioned method of killing each with spray which then clogged my lungs and made me gag.
I killed over thirty that day, counting their little bodies in disbelief at how many there were. I didn't want to kill anything and tried to get them to leave via an open door but that only invited more in. For several days I was constantly spraying and swatting flies.
It's a mystery why they choose my home. I didn't have any food out and I have yet to find a hole in any of my screens. It seemed a bizarre phenomenon until I mentioned it to others who told me they had it happen to them, one woman in the middle of winter. I would have called Ghost Busters for sure on that one…
Just as mid July came around and the scheduled chaos was about to end, I came home from looking at a possible rental to find a dead blue bird at my front door. Squeamish and stressed, I freaked.
I should maybe have said a prayer for the poor thing but my brain was too fried and fatigued to think that through. I thought I should do something proper like bury him, but the only shovel I had was a snow shovel.
I am not proud of this but I did the only thing that seemed to make sense to my MS body and brain. I collapsed on my bed in front of the ac and when draining it, swatted a fly or two.
Nature and bigger creatures, take their course and when I came outside the next morning to pay my respects to the dead bird, his body was gone. In its place were several blue feathers.
I worried that the demise was the final straw in what seemed to be a summer of plagues and was sending me the ultimate message of doom. I went to the internet to find out what his death on my doorstep meant.
First, I tried to identify him. He was clearly not a blue jay. Looking at birds I decided he was either a simple blue bird, well he was a blue bird but that is actually a name of a bird species, or, he was a bird called a blue tit. I'm not kidding. That is a bird name.
It probably wasn't my bird corpse as they don't seem common in my area, but I couldn't help thinking of him as a blue tit anyway. Who named the poor guy- the porn industry?
Researching further I learned that what his death on my door meant was less death, but change.
The next day the heat broke and a new rental came through. So as much as I have loved living here, the plagues of July seem to be telling me it is time to move on. A change is coming, and although I couldn't see it when the thermostat hit 98, it's a good thing.
My new rental comes with a normal ac and right there is the start of something better. So while I will be crazed with sorting, packing, cleaning, and moving six years of my life, and trying to fit in some natural Vitamin D without too much natural Vitamin D, I do live near the beach after all, this tricky time too shall pass.
And here is the MS lesson in all this. When you are planning your balance beam of energy, plan on planning for what you haven't planned. What is that plan? You can't know, just plan on it anyway.
That, my friends, is the nature of multiple sclerosis….
Note- Kidding aside, I am very grateful to the Multiple Sclerosis Association of America for the vest, which does greatly help. Just don't wear it to an airport. Unless you want to catch the attention of a cute TSA agent!
Image courtesy of [renjith krishnan] / FreeDigitalPhotos.net
Image courtesy of [Vichaya Kiatyina-Angsulee] / FreeDigitalPhotos.net
Image courtesy of [Stuart Miles] / FreeDigitalPhotos.net
Image courtesy of [olovedog] / FreeDigitalPhotos.net