A chronic illness companion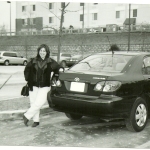 My car and I go back a long way, 10 years to be exact.  She was a pretty, blue, 2005, used Toyota Corolla that I bought in 2004.
No, that is not a typo or a result of MS brain fog.  Weird as it seems, the 2005 cars came out early that year and someone bought her right away.  Then they decided that they didn't like her and returned her to the car place!
Like me, too many times to count, my little Corolla faced rejection early in life.
But I loved her and scooped her up!    She was clean, smart, not too fancy and not too terrible looking; more cute than beautiful.  I didn't want a flashy vehicle.  I didn't need something gorgeous that would be too much trouble to keep up with.
Sure, I could have invested in a Lamborghini or a Ferrari- not really, I could barely afford the Corolla- but I fell in love with blue simplicity.
Previously I owned a blue Dodge Neon that my friends said I should name. So I named the car after my fake id- calling it Gina Blue.  But it never really stuck.
I tried the name out on my Corolla too but it also didn't fit. It makes for a fun blog post name though.
It seemed easier to just call her my car or my baby.
She was absolutely perfect!
For one month.
Then, just before Christmas that year I made the mistake of parking her under a big tree during a freak winter windstorm.  While I hummed carols and mailed off Christmas cards my auto baby became disabled when the tree collapsed on her.
Disabled- having a physical or mental condition that limits movements, senses or activities.  Google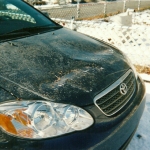 Her roof caved in and her frame was badly bent.  It was a frightening scene.   She needed major reconstructive and cosmetic surgery.
I took her to an auto body place so they would make her perfect again but she was never the same.  She had received a traumatic injury that would haunt the rest of her days.
I was shocked that she couldn't be healed completely, especially since the auto body guy I took her too was incredibly handsome- how could he not fix her completely?
Before you freak out, I didn't pick his shop because he was gorgeous; it was just a nice plus when I dropped my baby off and came to visit it from time to time while he was working on her.
Several years later I had to take her back to the shop as her paint was peeling.  And a couple of years after that it started to peel again.
This time I decided to leave her be. I didn't want her to think that I loved her any less now that she was covered in chipped paint.
Here is the point of my sad tale- You know how they say people start to look like their dogs or their dogs start to look like their people?  Well, I'm convinced that my car is starting to look and act like me.
She received her big traumatic incident right before Christmas.  I received my big traumatic incident (my MS diagnosis) right before Christmas five years later.
The summer after my diagnosis, the heat and humidity made me very sick.  And my car got sick too!!!!
When I took her to a cute mechanic he said the heat just got to her.  He was wrong.  One month later the part that he replaced was the subject of a recall and Toyota sent me a big check.
This should be a lesson- no more good looking car guys touching my baby.
Five years have since passed and I'm still kicking.  I'm slower, have unpleasant symptoms, and am definitely showing my age.
But my car is too!!!! Her paint chipped spots have grown and some have turned to rust.  And now she has sprung a leak! Two leaks actually.
(Yes this reminds me of MS bladder problems. No, I have not yet developed leaks, thankfully.)
Chronic illness-  a condition that is persistent or otherwise long lasting in its effects.   Wikipedia
I took her to a new auto body place and a new auto doctor and was told that he can try to do a simple fix but if that doesn't help her, she'll need major, expensive work.
(Hmmm, kind of reminds me of what my neurologist told me about my fatigue and mood swings at my last visit.)
And like a busy specialist, this car doctor can't treat her for two weeks.  And we have a rain soaked Nor'easter heading our way…
My poor baby.  I have no way to protect her. The most I could do was try to help her through this exacerbation until she can get the help she needs.
I covered her seats with plastic garbage bags and then opened two umbrellas under her weak spots to catch the dripping water.  I know opening an umbrella in the house is bad luck- hopefully opening an umbrella in a car is good luck?
She looks very uncomfortable.
I worry how she will weather this latest storm.
I worry how she'll feel after her next auto doctor visit.
I worry how I will pay for it.
I worry about the fact that this latest car doctor is older but still handsome- will she be in better hands with an older car doctor?
I do cringe when society focuses on looks and so I know better than to have that as a factor in deciding where she should be sent.  But this is my very own baby we are talking about and the previous cute doctors have been a bad omen.
There was nothing I could really do but wait and worry and hope she does ok.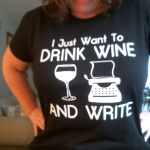 While I was waiting and worrying there was a knock on my door.  My friend Serena and one of her daughters had arrived with a surprise gift to cheer me up- a funny t-shirt.
Yes, a shirt has nothing to do with a troubled car.  But it reminds me that when you are down and out, your good friends can help pull you through.
And my car has a good friend, a total bestie, me!
Together we will get through this latest symptom she is facing.
Together we can weather any storms: rain, fatigue, new symptoms, injections, MRI's whatever they may be.
I just hope that a bumper sticker, rather than a t-shirt, will cheer her up….
Guess What!  Guess What!  Guess What!!!  The Multiple Sclerosis Association of America has given MS Madness! a shout out in their latest edition of The Motivator!  Check it out here!  And please check out the rest of this awesome publication while you're at it…..  The MSAA rocks!!