September if for MS'ers
It is no secret that autumn is my favorite time of year and that September is my absolute favorite month. I like it even more than my birthday month where people give me stuff, and more than December where everyone gives everyone even more stuff.
September kicks off autumn on the day after Labor Day.
Ok, not technically. Technically autumn starts on September 22nd but my research proves otherwise.
It is very upsetting that the other common name for autumn is fall. Why is that? Does it have to do with the fact that fall is when leaves start falling off the trees? If so, than that is a dumb reason. Fall is a bummer of a word for people with MS and it is super unfair as otherwise, September is a perfect month for MS'er's like me.
I know, I know, my MS is not your MS and your MS is weird. It is especially weird if you don't appreciate this amazing month that kicks off the most wonderful time of the year. Allow me please, to make my brilliant argument.
Fall is when the weather gets perfect for temperature sensitive people with multiple sclerosis. The heat goes down, the humidity practically disappears, and every once in a while, you will get a refreshingly cool breeze.
Goodbye cooling vests, time for you to collect dust on a shelf next to the beach towels and hand held fans that no MS'er ever uses because your arm gets tired from holding them.
Goodbye air conditioning. Don't need you either and the money MS'er's save from not using you can go back into our piggy bank to help pay for all of our expensive prescription copays. At some point, the savings in our bank will disappear into heating costs but not until at least October. So save up in this awesome month!
September is when the bugs start to go away. Where do they go? Who cares! They leave and MS'ers can now relax knowing that when we get the creepy crawly feeling it is likely not actually from real creepy crawlers.
People evacuate the beach which makes the beach a much more comfortable and relaxing place to be. A sanctuary for MS'ers to grab some much needed rest and natural vitamin D without trying to balance ourselves and our beach stuff through tons of crowds and noise.
I love the beach in September so much that I actually found the energy to go running on the beach as evidenced by this picture.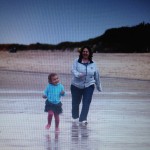 Me running anywhere is an incredibly rare sight and I think I was running here as my young friend yelled shark and I panicked. Even so, I was running for a whole 6 seconds! Only in the fall. And, I didn't fall.
The hockey season kicks off and that is huge for MS'ers! Ok, you may be wondering how I made that leap. And no, I haven't started leaping. Running is enough thank you very much.
Living well with MS is tough. It is not for the faint of heart. Hockey is also tough-no wimps allowed. Boston Bruin Gregory Campbell played 47 seconds of a playoff game with a broken leg. And it is common for players to lose a tooth (or a finger or an arm,) in one period and be back on the ice the next.
In other pro sports a player gets a little sprain and they get a vacation. Not in hockey.
One of my annoyances is players getting benched for a groin pull. I say, players should stop pulling on their groins during their season. Why should they get a rest for that? Just leave their groins alone.
Anyway, one of the most demanding positions in hockey is that of goalie. Josh Harding is a goalie for the Minnesota Wild and he is living with MS!  See, that is some tough sport for tough people.
In addition to hockey, all the best TV shows come back which gives MS'ers something somewhat interesting to watch in that period of resting that is too late to nap otherwise we'd be up all night. In the summer, nighttime is very stressful trying to keep yourself awake until a reasonable hour when there is nothing but crap on television and you are too tired to do anything else but veg in front of the television. (Shark week is a crucial exception to this fact however.)
And finally, the best proof that September is for MS'ers is that come September everyone starts thinking of pumpkins and Halloween, which are both orange. Suddenly, everywhere you look, everything is orange. And, as we know, orange is the color of MS.
So there you go. September is the start of fall which is the best month for MS but like all ironies with MS, has the worst name for a month perfect for MS. Fall reminds us of losing our balance and
A. Embarrassing ourselves
B. Seriously hurting ourselves
C. Mimicking the awful "I've fallen and I can't get up" commercial or
D. all of the above
We need a new name for this wonderful time of the year. Autumn is ok but diehards used to fall won't adapt easily so we must create something new.
This month reminds me that all the things I don't like about Spring (bugs, pollen, heat, humidity, crowds,) have sprung. So, I vote that the alternate name for autumn be changed from fall to sprung.
Any takers?
Crucial MS Public Service Announcement
The best show to come back on air this month is DWTS. And, because September is for MS, there's an MS contender. Jack Osborne is taking on the dance floor and after week 1, is doing an excellent job.
I've heard it mentioned that this may be bad for MS as people might not get that his symptoms are different from others and that not everybody would be able to take the DWTS pace. I say, whatever gets people talking about MS is good for MS!
And there are some funny moments watching people on the show dance (pun intended,) around the topic. Host Brooke Burke-Charvet, "I know you were nervous before, how are your nerves tonight?" Judge Bruno Tonioli, "your balance is a little off."
I say we support Jack Osborne in his dancing/awareness quest and vote to keep him in the competition. Technically you are supposed to vote for the best dancer. I say, knowing how tired I get just watching the show, Jack has got to be the best dancer with that crazy rehearsal schedule.
He looks pretty great on the DWTS floor too!
Vote for Jack and his partner Cheryl Burke by calling 1-800-868-3402 up to 60 minutes after the show on Monday nights or by logging onto ABC.com or Facebook.com/votedwts up to 24 hours after. We'll keep track of Jack's progress on this very blog.
Way to move Jack, way to move…