A multiple sclerosis book review, sort of….
Once again this New England girl is visiting a state in the southwest and I'm having trouble adjusting.
I do not like this state.
I won't mention it by name here as I don't want to offend any of my readers.  Perhaps they actually like this state.  But I do not. To me, it is without a doubt, a yucky state.
You might say that is not fair for me to say.  Many, many people love it here and even retire here, despite its yuckiness.
But before you judge me for unfairly judging a state, please allow me to state my case.
There are no seasons here.  The weather goes from nice to hot to super hot to hotter still.  Where is the snow?  Where are the changing colors of the autumn leaves?  Where are the cool breezes?
This state is surrounded by mountains, dessert and land.  Where is the ocean?  Where are the lighthouses?  Where is the whiff of low tide that only a true New Englander can appreciate?
Speaking of smells, the one thing I thought was cool when I first visited was that there are cotton fields all over and that, to me, was interesting.  Until allergies I never knew existed rolled to the front of my runny nose, itchy eyes, and sneezy sneezes.
And then the smells followed.  Seems the best way to fertilize these fields is with manure and so everywhere I go and with everyone I see, I smell a messy diaper.  Which is super stressful as the whole reason I am in this state is to visit my two youngest nephews, one who is in diapers and one who is recently potty trained.
These poor children can't get away from me fast enough as I'm always checking for accidents or a messy diaper.
(And truth be told, I'm visiting their parents too…)
Perhaps, if I'm being honest, the fact that I think this is a yucky state just might have a teeny tiny bit to do with the fact that I hate that these boys live so far away.  One may argue that it is not the state's fault that these little cuties live here but I irrationally beg to differ.
Plus, to add to my frustration, these little ones are actually great nephews; which makes them great.  But it also reminds me that I am freaking old!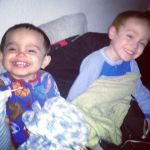 When did their dad (my very first nephew) get old enough to have two little boys of his own?  I'm going to blame that on the yucky state as well.
Like I l have learned to do with multiple sclerosis, I tried to power on through the bad and tried to make the best out of visiting a yucky state.
(Of course I don't make the best out of bad things until I have whined first about them over and over and over again.)
So, visiting in late November when the weather was anything but November like, I knew the best thing I could do was treasure my time with these awesome boys.  Since I wouldn't be here during Christmas, I decided I would repeat the tradition I had started with their dad by reading them the best book in the world, How the Grinch Stole Christmas.
Dr. Seuss is the man!  I knew I could share his Christmas magic with my great greats. But the neighborhood library, which was huge, didn't have it!!!!  How's that possible?
They actually did have one copy but it was out. Shouldn't there be like ten copies of such a classic?  My frustration was just another mark on the list of things that made this particular state a yucky state.
I fumed.
I seethed.
I reasoned I still needed a book for the children and so I grabbed some other Dr. Seuss tittles.  One was a Dr. Seuss book I had somehow missed in my literary exposure.  It was called I Am NOT Going to Get up Today.
It was the perfect book, especially for someone grouchy and who has MS.  It's like the anthem of MS'ers everywhere; a book about someone who has just had enough and refuses to get up for one day.  And it's okay!!!
It's like Dr. Seuss himself wanted to let people like me know that once in a while, it is ok to give in and give up and just rest for a day.  And since Dr. Seuss is a member of the esteemed medical profession, he knows what he's talking about!
The book includes classic lines like,
In bed is where I'm going to stay.
And I don't care what the neighbors say!
I never liked them anyway.
And,
I don't choose to be up walking.
I don't choose to be up talking,
The only thing I'm choosing
is to lie here woozy-snoozing.
So won't you kindly go away.
I am NOT going to get up today!
Dr. Seuss
 These brilliant words by a brilliant man made me so happy and relieved.  It occurred to me that if not for this yucky state, I may not have discovered this MS masterpiece.
That thought led me to think of The Grinch himself.  His grouchiness wasn't totally justified.  Though no one quite knew the reason, he hated the whole Christmas season.  And that was not fair to Christmas.
But when he learned that maybe his Grinchiness was missing the good of the holiday, he set out to make amends and find out what Christmas was all about.
Perhaps I need to do that with this yucky state.
Perhaps I should apologize to those who live here and truly appreciate it.
Perhaps I should finally take responsibility for teaching my cousin's four year old son that this state is a yucky state.  We were doing a puzzle of the US and I shared my opinion with him.  How was I to know he would then announce to all he encountered that this was a yucky state?
At the time, I was pretty impressed.   His parents, not so much.
Perhaps, like the Grinch, I have to learn to appreciate the good that comes with the bad and not blame a state if it happens to be where my great greats live and is too far away.
Once again, Dr. Seuss has both re-assured me and taught me.  So I will no longer feel guilty for the days when I am just NOT going to get up and I will try to be less Grinch-like when discussing this particular state.
It sure would be a lot easier if they put a nice blue ocean in the middle of it though….